Mountain biking in the Kronplatz region
Cycle routes through breathtaking scenery
Have a real bike adventure by mountain biking in the Kronplatz region! Shady woods, forest paths of all difficulty levels, challenging single tracks, dramatic cliff backdrops... Start in the mountain landscape around the Kronplatz, Dolomites and the Alpine main ridge! Mountain biking is one of the most popular summer sports. Whether you're out and about alone, with an experienced bike guide or with a group of like-minded cyclists, you will love the bike routes!
Some of the most beautiful mountain bike routes for a biking holiday in the Kronplatz region:
Around the Kronplatz: The route begins in Stefansdorf and leads to San Martino and Maria Saal, then comes to just before Enneberg. Then the steep climb to the summit of the Kronplatz begins, with two parts where you may need to get off and push, but there is a steep downhill from there and then head to Niederolang and back to Reischach via Bruneck and finally Stefansdorf.
To the Dolomites route: Cycle via Maria Saal to San Vigilio, from there to Kreidesee and back again, or as an alternative you can cycle back to San Vigilio, climb the Furkel Pass and go via Geiselsberg and Olang and back to Reischach and Stefansdorf.
Castles tour: Cycle to Michelsburg, then via Montal to Ehrenburg Castle, then uphill via Issing and Pfalzen, from there to Sonnenburg and back to Stefansdorf.
Kronplatz trail: You can take the Kronplatz trail cable car to the Kronplatz, then via route 8 to the Moosener Kaser (open for business in summer), where you can stop for a bite to eat, then go back to Stefansdorf (1,450 elevation increase) via the Haidenberger Alm.
To the Prags Dolomites: Via Reischach, Olang and Niederdorf cycle to the Prags Valley and from there to the northern Dolomites. From there head to Schluderbach and Toblach and via the cycle path back to Bruneck and Stefansdorf.
To the earth pyramids: Go from Stefansdorf to Oberwielenbach and the earth pyramids, then back to Percha and via the cycle path to Bruneck and Stefansdorf.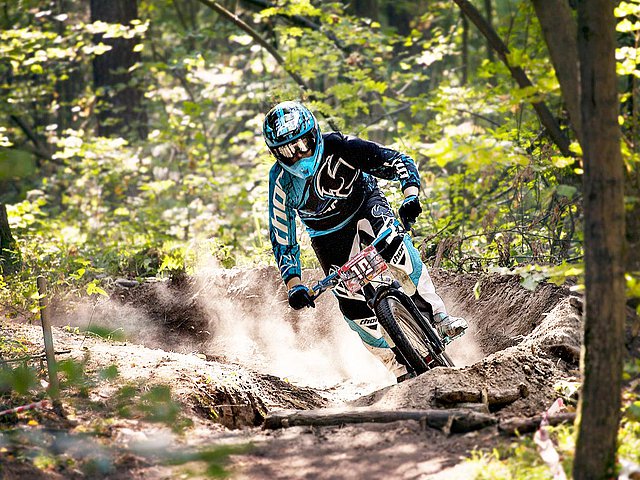 Downhill trail on the Kronplatz
On the Kronplatz there are several downhill trails open in the summer months which are accessible by cable car. The first identified downhill trail in South Tyrol is the challenging Herrnsteig. It is open from June to the middle of October and is inaccessible to pedestrians.