Cross-country skiing in the Puster Valley
Glide through the unspoiled winter landscape
If you prefer cross-country skiing to skiing and want to find stillness and unspoiled nature in the Puster Valley, the cross-country ski trails of the Kronplatz holiday region in South Tyrol are for you. It is part of Europe's largest country-country ski resort, the Dolomiti NordicSki group, and contains an incredible 300km of trails. Among all these well maintained courses everyone will find a trail offering exactly what they want and need: classic courses or courses for skaters; chilled and flat; or sporty and challenging. The Kronplatz holiday region has already received numerous awards for its range of cross-country ski trails.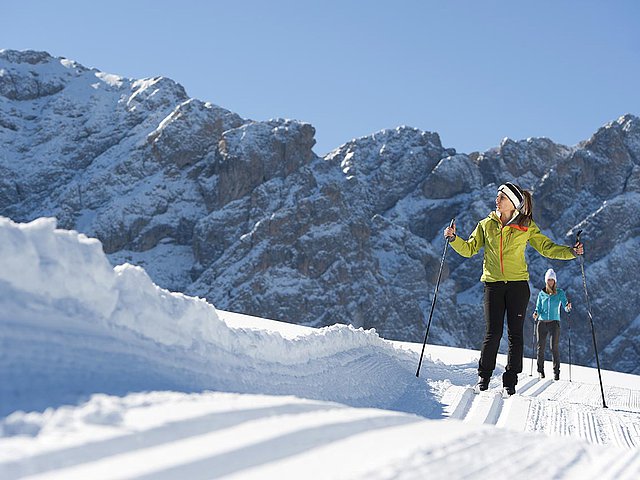 Not far from our hotel, past the fire station, there is easy access to the bright cross-country ski loops of the Reischach sport park, which are carefully groomed each day. As well as narrow cross-country ski trails, there is also an open piste for skaters. It is free to use the cross-country ski trails, which are covered with artificial snow as needed. Every week there is a cross-country ski taster course as part of the free KronAktiv winter programme.
There are also cross-country ski trails in the Dolomiti Nordicski resort in Rein in Taufers and in the Antholz Valley. The KronAktiv winter programme also offers cross-country ski day trips in the Puster Valley.